Dine With Heart Gala Dinner @ Palais Theatre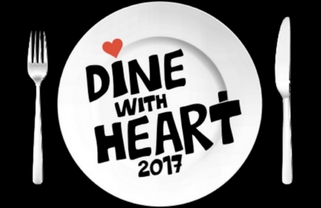 Where: Palais Theatre, Lower Esplanade, St Kilda
When: Tuesday 30 May, 2017
Tickets: $220 per person (tables of ten)

 Join us on Tuesday 30 May for an evening you won't forget!
Imagine yourself on the stage of the Palais Theatre. Warm light and a sense of anticipation floods the stunning 90-year old auditorium and it's yours to command…only it's empty! Instead, all the action is happening around you, on stage and outside in the venue's car park. You are part of a bespoke audience of 200, about to delight in a unique and memorable dining experience, catered by an ensemble of Melbourne's leading chefs, notably:
CHRIS WATSON – Cutler & Co / Marion
JESSE GERNER – Bomba / Anada
EMMA D'ALESSANDRO – Donovans
ADAM D'SYLVA – Tonka / Coda
NICKY RIEMER – Bellota Wine Bar
BUDDHA LO – Matteos
ALEX DROBYSZ – Epocha
JARROD SMITH – Elyros
The evening will be hosted by Cam Smith (presenter of EAT IT on 3RRR). Guests will be entertained by live music, fabulous auction prizes are a certainty and an extraordinary culinary experience is guaranteed. This is a food-lover's experience not to be missed! The annual Dine with Heart Dinner will take place on the stage of St Kilda's iconic Palais Theatre on Tuesday 30 May from 7pm. Tickets are strictly limited and we anticipate the dinner will sell-out quickly.
Location:                  Palais Theatre, 12 Lower Esplanade, St Kilda
Date and Time:        Tuesday 30 May @ 7pm
Tickets:                    $220 per person (Tables of ten: $2,200)
Peter Mercer             T: 1800 443 278
 pmercer@sacredheartmission.org
RSVP:                      Weds 24 May 2017
Dress Code:            Semi-formal
TICKETS: Phone: 1800 443 278 or email: pmercer@sacredheartmission.org
More information here.
---