On the Cocktail Trail
While St Kilda weekends are all about sand and surf, good brekkies and better gelati during the daylight hours, it's when the sun goes down that the streets light up. Locals have a countless number of favourite bars to frequent on a Saturday or Sunday night for a cocktail or two, all with their own unique charm and aura. It only takes a stroll down Fitzroy Street to discover the plethora of night time hotspots and the droves of people enjoying a drink and a good time. These are just a few of our favourite cocktail bars in St Kilda to inspire you on the search for your new local watering hole!
1. 29thApartment
Styled like an old school studio apartment, complete with bathtub, you'll feel like you've stepped straight into 1960s New York at this retro playpen. Those with a penchant for nostalgia will feel right at home, with Connect Four and giant Jenga to keep you occupied when you're not on the dance floor grooving to the hits of the 90s.
Must try: the Broadway Bourbon Punch, featuring popcorn infused bourbon. New York, New York!

2. Secret Garden
It's no secret to St Kilda locals that Secret Garden is the place to be on a Saturday night. An impressive line-up of big name DJs keep the atmosphere buzzing as revellers sip on fruity cocktails, well suited amongst the palm trees.
Must try: the Peach and Lychee Margarita, in keeping with the tropical vibes.
3. Cushion Lounge
Lovers of the Melbourne club scene will be all too familiar with Cushion Lounge. With inspiration drawn from wild nights in chief party destination, Ibiza, when you hear the word 'Cushion', you know you're in for a big Saturday night.
Must try: slide into a big red booth and keep the Champagne flowing!
4. Republica, St Kilda Beach
It would be remiss of us not to mention St Kilda beach when talking about the precinct's best evening chill-out spots. Find a spot on the shorefront at St Kilda Sea Baths and soak up a classic St Kilda sunset or watch the Republica volleyball during Tuesday, Wednesday or Thursday for after-work drinks (or get amongst the action and have a game – during daylight savings periods).
Must try: the Long Island Iced Tea, perfect for a Sunday evening by the sea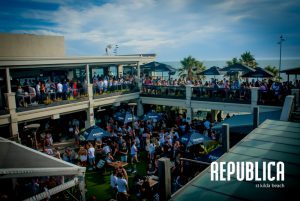 5. Captain Baxter
Another beachside favourite has to be Captain Baxter, attracting the who's who of St Kilda and Melbourne. With their nautical themed deck featuring lounge chairs and overlooking an unbeatable beach view, the restaurant and cocktail bar is 'the place to be seen' and is a St Kilda institution. Get in early to save your crew a spot under the umbrellas, upstairs at the iconic St Kilda Sea Baths!
Must try: the Porn Star Martini, the house favourite, complete with floating passionfruit.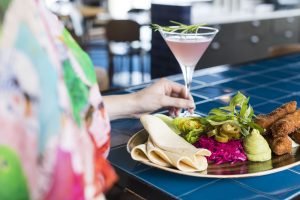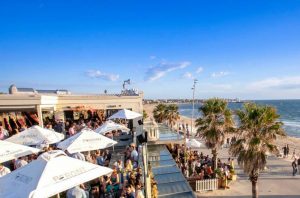 6. Day of the Dead
There is no shortage of Latin American inspired restaurants and bars in St Kilda, but we think Day of the Dead in the acclaimed George Building is one of the best of a great bunch. With passionate staff inspired by celebration, the only thing that tops the incredible décor of the room is the spicy tapas.
Must try: Anything that includes Tequila, of course!
http://www.captainbaxter.com.au
7. White Bar
Also calling the famous George Building home, White Bar looks almost psychedelic when you walk up to the bar. This one is ideal for those looking to pinch a few pennies – free entry all Saturday night and cheap cocktails up until 11pm.
Must try: the Parisian Mojito with elderflower liqueur.
http://www.captainbaxter.com.au
8. St Hotel
Newly renovated, St Hotel is a sophisticated drinks stop with a style of their very own. This place is a must if you're feeling adventurous, with an impressive menu inspired by Thai street food and a cocktail list filled with some certainly creative combinations.
Must try: The Fluffy Pom, featuring camomile gin and egg whites (trust us)!
Whatever your style and whatever your poison, there's a party just around the corner when you're in St Kilda. It is little wonder why this seaside suburb is popular with bar-hoppers from all corners of Melbourne.