Tag Archives: Sunday St Kilda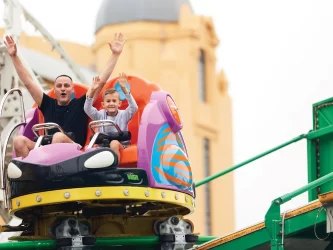 Plan a day out in St Kilda this Father's Day with much to do and 'sea'. Enjoy breakfast lunch or dinner and in between visit Luna Park.
DAD'S RIDE FREE ON SUNDAY 3 SEPTEMBER!
There's no better way to spend this Father's Day than with Dad at Luna Park St Kilda.
Come along for a Day of fun, laughs and thrills the whole family will enjoy.
Test out how tough he is really by taking on the scariest rides you can find and listen to him scream his lungs out! Or check out what a softie he is by going on the Carousel or Betty Choo with you – and winning him a teddy bear.
So much COOLER than socks and he'll keep the memories forever!
On Sunday 3 September, 2023 Luna Park is welcoming all Dads to enjoy VIP treatment with FREE entry and unlimited rides all day on Father's Day when they purchase a child's (4+) Unlimited Ride Ticket. To redeem a free ticket for Dad, simply bring him along with you to the ticket box and show your Pre-Purchased Child's (4-12 years or 13+ years) full-price Unlimited Ride Ticket on Sunday 3 September only from 11 am.