April Sun
April 12, 2021

-

May 3, 2021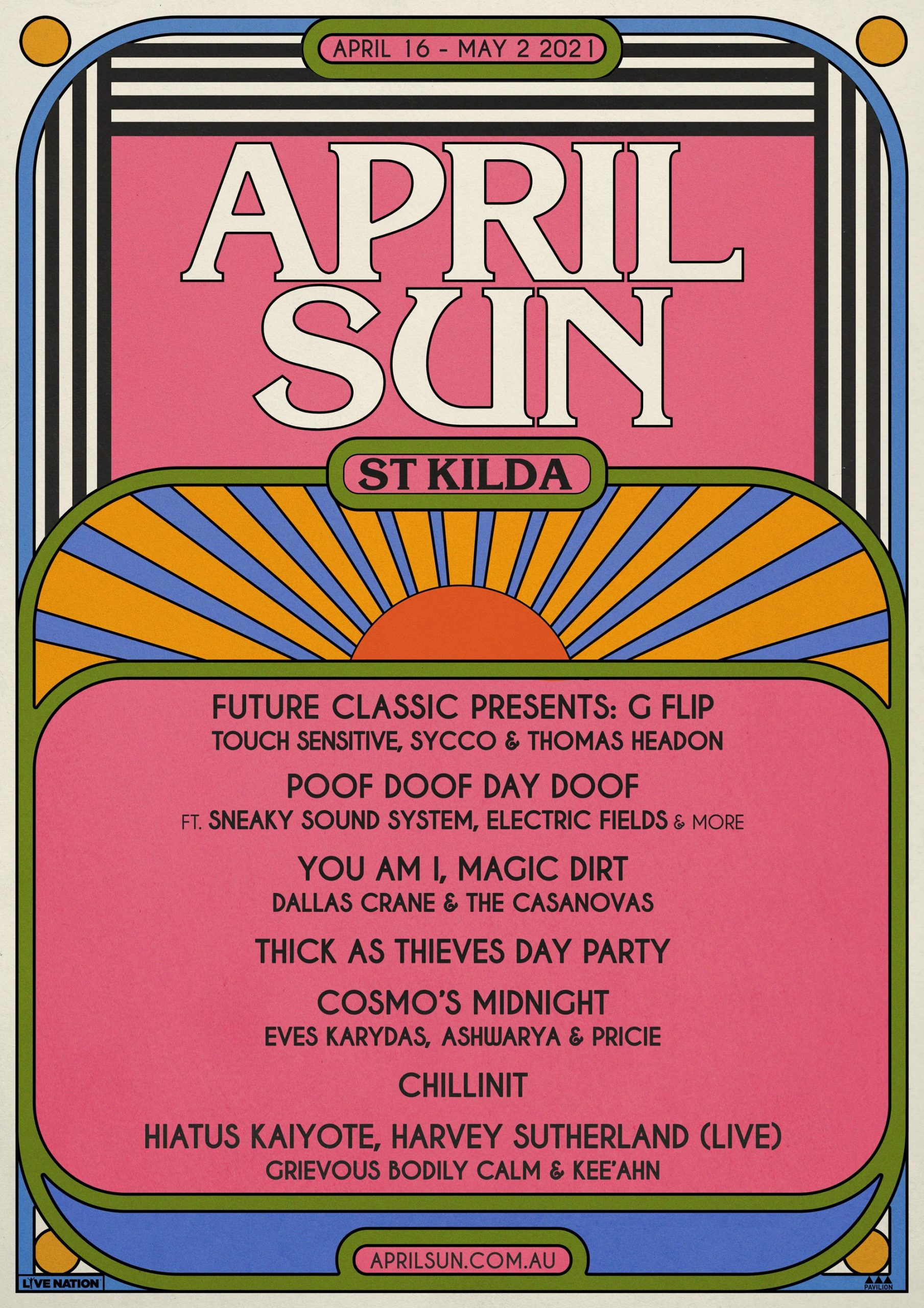 The St Kilda Music scene is ROCKIN the St Kilda Triangle. It's BIG, it's OUTDOORS and it is right next door to the mighty Palais Theatre. 
The Chruch, Bob Evans, Leo Sayer, Marcia Hines, Kylie Auldist, Opiuo & Blanke will be making the sand move, opposite St Kilda Beach, in the St Kilda Trinagle – this is once in a lifetime.
Live Nation, in collaboration with Melbourne-based event producers Pavilion Australia and tastemakers Shadow Electric, have developed a St Kilda outdoor entertainment experience in the heart of Melbourne's iconic St Kilda Beach Foreshore, featuring a program of headline concerts, mini-festivals, day parties, and family programming.
April Sun St Kilda, will serve up a platter of headline concerts, mini-festivals, day parties and family programming, featuring Australia's finest to satisfy the many and varied palates of Melbourne music lovers. These St Kilda events will allow patrons to book single tickets and sit in a position of their choice within each zone. The space will be transformed into a live music venue at one of Australia's most iconic foreshore locations so #VisitStKilda.
Undercover and above ground Car Parking just across the road at St Kilda Sea Baths
Ticketing
April Sun aims to deliver a festival-level presentation of quality content in a safe, comfortable and enjoyable format. All tickets are unreserved. Dancing in/near your seat (whilst socially distancing) is allowed and encouraged. Tickets are on sale for individual purchase; each ticket is allocated to one of four zones; assemble your crew and claim your zone.
In the unlikely event of cancellation due to a change in public health directives, all tickets will be refunded.
 Tickets on sale 1pm Tuesday, March 16, now from www.aprilsun.com.au.
THE ST KILDA LIVE MUSIC LINE-UP IS UNMATCHED
Fri April 16                   Future Classic Presents – G FLIP, Touch Sensitive, Sycco & Thomas Headon
Sat April 17                  POOF DOOF DAY DOOF feat; Sneaky Sound System, Electric Fields, Jawbreakers, Yo!Mafia, Sgt Slick, YUMMY, Fisty, Jimi The Kween and Argonaut and more.
Thur Apr 22                  You Am I, Magic Dirt, Dallas Crane & The Casanovas
Fri April 23                   Leo Sayer, Marcia Hines & Kylie Auldist
Sat April 24                  Thick As Thieves: Boogs, Brian Fantana, T-REK (LIVE) & Casey Leaver
Sun Apr 25                    OPIUO, BLANKE (ÆON:MODE) & Guests
Thurs April 28               The Church & Bob Evans
Thur April 29                Cosmo's Midnight, Eves Karydas, ASHWARYA & PRICIE
Fri Apr 30                     CHILLINIT                                 FINAL TICKETS
Sat May 1                     CHILLINIT                                 FINAL TICKETS
Sun May 2                    Hiatus Kaiyote, Harvey Sutherland (LIVE), Grievous Bodily Calm & Kee'ahn
Tickets on sale now from www.aprilsun.com.au.