St Kilda Ferry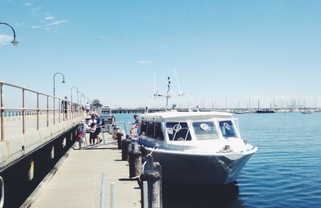 Jump onboard the Coastal Flyer and enjoy a scenic ferry ride from St Kilda to Williamstown.
Our vessel Coastal Flyer in now operating a ferry service between Williamstown and St Kilda taking around 20 to 25 minutes per crossing, making it faster and more enjoyable than the car.
Coastal Flyer will be departing Gem Pier Williamstown and from the first lower landing on St Kilda Pier.
Yes we take bikes, it is advisable to call ahead to book the bikes to ensure room.
As this service is weather dependent it is recommended to consult our Facebook Page St Kilda Ferry (see the Facebook feed below) or call 0412 320 315 to ensure that we are operating on the day.
We also operate for group bookings.
Or for the latest prices and timetable, please visit: https://www.stkildaferry.com.au/timetable
ph: 0412 320 315
w: https://www.stkildaferry.com.au/timetable
Facebook: St Kilda Ferry
---