Bob Sinclar on St Kilda + Joey Negro, The Supermen Lovers & More
January 12, 2019 @ 12:00 pm

-

10:00 pm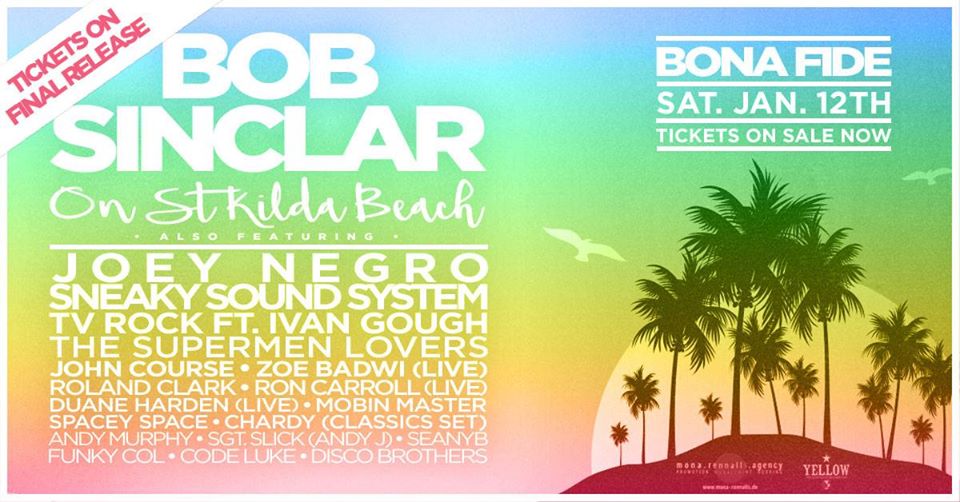 BONA FIDE PRESENTS: BOB SINCLAR ON ST KILDA – SATURDAY 12TH OF JANUARY.
If you thought last years party with Fatboy Slim was massive, wait until you see BOB SINCLAR and an entourage of house music heavyweights making their presence felt at the ever picturesque city of St Kilda on the Foreshore!
The legend of all legends, Bob Sinclar, a French DJ/producer who needs no introduction or reminder of some of the house classics and remixes he has created over the years. Witness the man play some absolute classics such as; "Love Generation", "World Hold On", "Rock this Party" and so much more!
LINEUP:
BOB SINCLAR (FRA) – Love Generation / World Hold On
JOEY NEGRO (UK) – Ride Like The Wind / Pull Up To The Bumper / Keep The Fire Burning
SNEAKY SOUND SYSTEM (LIVE) – Pictures (Original Mix) / UFO (Original Mix)
THE SUPERMEN LOVERS (FRA) – Starlight (Original Mix) / Diamonds For Her
RON CARROLL (USA) (LIVE) – Tribute (Original Live Mix) / Back Together
ROLAND CLARK (USA) (LIVE) – I Get Deep (Late Nite Tuff Guy Edit) / House Will Survive
DUANE HARDEN (USA) (LIVE) – You Don't Know Me (Original Mix)
TV ROCK. FT IVAN GOUGH & SEANY B (LIVE) – Flaunt It (Original Mix) / The Others
JOHN COURSE (CLASSIC HOUSE SET) & ZOE BADWI (LIVE) – Free Falling (Original Mix) / Release Me
MOBIN MASTER (LIVE) – Show Me Love (Safari Mix)
CHARDY (CLASSIC HOUSE SET) – Face of Meth (Chardy Remix)
SPACEY SPACE – Le Swipe
ANDY MURPHY – Right Here
SGT. SLICK (ANDY J) – Right In The Night
FUNKY COL – Funky Col – D Madina
CODE LUKE – Funky Sister Girl
DISCO BROTHERS (21 CENTURY REUNION SET) – Revolving Dance Floor