Four Pillars Christmas (Gin) Revue @ The Espy
December 5, 2018 @ 6:30 pm

-

10:30 pm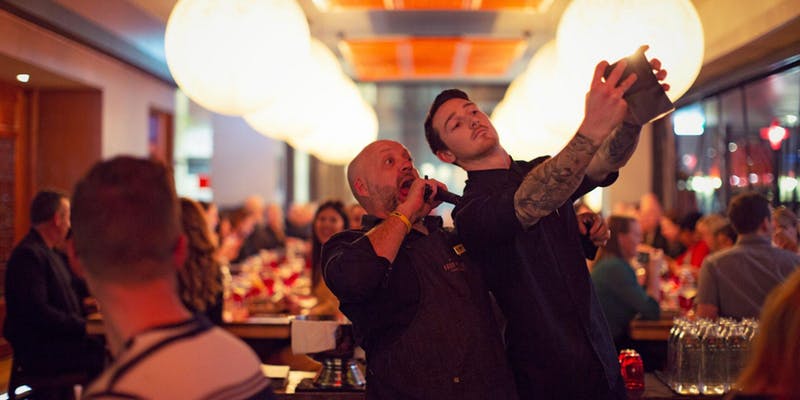 Last year, for reasons unknown, we decided to create our own end-of-year 'cabaret' revue replete with sing-a-longs, carolling, cocktails, air guitar and plenty of gin. And we must humbly admit, it was a bit of a smash hit.
Well, just when you thought it was safe to return to the cabaret theatre… IT'S BACK.
That's right, ladies and gentlemen, we are proud to present The Second Annual Four Pillars Christmas (Gin) Revue. And what's more, we are thrilled to announce the involvement of actual talent (cos there's no way Stuart could carry a second season on his own).
We can't wait to welcome Maeve and Liz to the stage, the incredibly talented duo from the 2017 Edinburgh Fringe Festival smash-hit Mother's Ruin. They come with their real-life pianist Jeremy and a few of their brilliant, witty, gin-soaked cabaret tunes.
These guys have real singing and performing chops but don't worry, our own two choppers (Stu and Cam) will still be mixing it on stage, combining a hilarious brand of gin geekery with bawdy slapstick and power ballad sing-a-longs. And along the way you will get plenty of gin – all the very best of our gins from 2018 in some crazy-delicious cocktails created by our maestro Jimmy Irvine.
Join us for one night only and our Melbourne debut in the Gershwin Room at the mighty Esplanade Hotel. As well as ALL the gin, there will be plentiful delicious canapés and the best goody bag EVER.
The ticket price includes all food, cocktails, tastings, and a bag to take away including a bottle of 2018 Australian Christmas Gin ($100 RRP), a jar of marmalade ($9 RRP), a set of cocktail books and a whole lot of seasonal love.