Heart of St Kilda Concert
October 23, 2018 @ 6:00 pm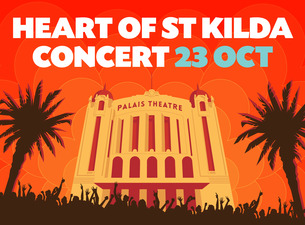 Come along to the 11th annual Heart of St Kilda Concert at the Palais Theatre!
It's a night not to be missed – an evening of entertainment which guarantees you will leave feeling uplifted and part of something big!
The Heart of St Kilda Concert raises much-needed funds for our Meals Program, based in our Dining Hall in Grey St, St Kilda, which supplies free, hot and nutritious meals 365 days of the year to people experiencing homelessness and disadvantage.
There is a huge line-up again this year, featuring some of Australia's best musicians and comedians, including:
Archie Roach, Kate Ceberano, Tex Perkins & The Fat Rubber Band, Anne Edmonds, CDB, Linda Bull & Sime Nugent: Stardust, Bob Franklin, The Cartridge Family, Thando, Nath Valvo, Alma Zygier, Bev Killick, Margret RoadKnight, Loose Tooth, Imelda Yalcin, Rebecca Barnard, Billy Miller & The Caravan Choir and The Meltdown.