Live at the Library feat. Mal Webb & Kylie Morrigan
August 25, 2019 @ 11:00 am

-

12:00 pm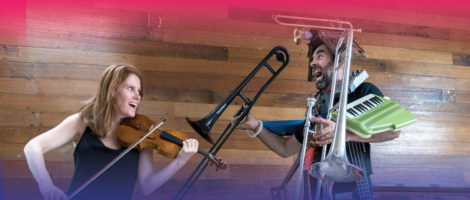 Join Live N Local plus Mal Webb and Kylie Morrigan for a musical morning at the St Kilda Library.
Vocal adventurer, multi-instrumentalist and looping beatboxing songwriter Mal sings his brain provoking songs using all sorts of vocal techniques, guitar, mbira, slide trumpet, trombone, chromatic harmonica and a loop recording pedal called Derek. And Kylie (who's played with Orchestra Victoria and the likes of Stevie Wonder and Barry White!) provides violin and voice in a perfect balance to Mal's nutsness. Their arrangements are intricate and playful. Imagine Einstein, Dr Seuss and Paganini making pancakes.
Join Mal & Kylie as they take you on a song writing journey through the physics, physiology and phrivolity of all the sounds a face can make. Sideways yodeling, beatbox/mouthdrums/vocal percussion, harmonics/throat singing, mic technique, looping and even advanced clapping!