Sacred Heart Mission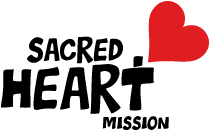 The original, and in the hearts of many supporters, still the best of our op shops.
Situated in the grand 100 year-old Sacred Heart Mission church hall, in the heart of St Kilda, this op shop boasts a vast array of treasures, from alternative and retro clothing, books, jewellery and music to furniture, heaps of hats, and everything in between, be it vintage, modern or just plain ugly!
This store is bursting with character, from the whales hanging from the roof, kooky mannequins and statues, to the oriental style fans, old clocks and records plastered everywhere – if the decorations don't hold your interest, then the ever evolving stock, with an emphasis on retro and alternative clothing, is sure to entice.
The St Kilda op shop's rock n roll reputation is well placed, with the staff and volunteers proudly sharing their best music selections, to help create a great atmosphere for the shoppers to bop along to.  The stock also upholds this reputation, as amongst the treasures you'll find a huge variety of denim, leather and vinyl for both the femme fatale and rocker in your life.
9537 1166
---