St Kilda's favourite galleries and theatres
St Kilda is a bustling arts and culture hub, with plenty to do for art aficionados and theatre-lovers alike. There is no shortage of galleries exhibiting both contemporary and classic pieces, or stunning theatres showing the best in local and international entertainment. Here are some of our favourites.
Galleries:
149 Acland St
Melbourne Artist Yarramunua welcomes a multitude of visitors into his Aboriginal art gallery. Inside the gallery is a collection of artwork created by himself and a number of extraordinary Aboriginal artists, heling from as far away as Ayres Rock, Tasmania and the Top End of Australia. Yarramunua's gallery is as educational as it is spectacular, teaching a number of tour groups each year about an important part of Australian culture.
21 Graham St, Albert Park
On the former site of the South Melbourne Gas Plant in Albert Park sits Gasworks, who prides itself on providing a multidisciplinary art and performance haven. The park has a multitude of creative spaces including two theatres, three gallery spaces, function and workshop spaces plus four hectares of scenic parkland. Each year, Gasworks is the proud host of a number of arts festivals, exhibitions, classes, markets and children's programming.
26 Acland St
Linden New Art is a beloved institution in St Kilda. It boasts an impressive exhibition program each year from both local and international artists and also hosts a number of creative workshops. The annual Linden Postcard Show is a unique exhibition not to be missed.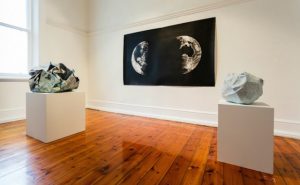 16 Blessington St
Pumpkin Lane houses a stunning collection of art, ceramics and sculpture, all created by established and up-and-coming local artists. Regular artist talks, workshops and gatherings take place at the gallery each year. The gallery is a truly special part of the local arts scene.
The Gallery, St Kilda Town Hall
99a Carlisle Street
Sitting inside the iconic St Kilda Town Hall, The Gallery is a special place for art with a particular relevance to the Port Phillip area and its community. Exhibitions featuring talented local artists range widely in medium, from sculpture and ceramics to photography and textiles.
Theatres:
20 Carlisle St
The National Theatre was built as a cinema in the 1920s and has a stunning, opulent interior. Today, the complex is used as a theatre with ballet studios underneath, hosting a variety of entertaining performances, including musicals, dance shows, opera and intimate one-person performances.
Lower Esplanade
We couldn't talk about St Kilda's theatres without mentioning the icon by the Esplanade, the Palais Theatre. Hosting a number of huge local and international acts throughout the year, in music, theatre and comedy, being entertained at the Palais is something every St Kilda visitor must do at least once.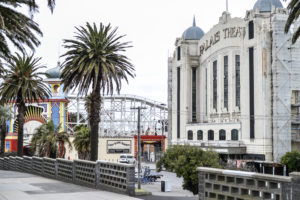 135 Fitzroy St
The Alex Theatre is a favourite among St Kilda's theatre-lovers. Managed by a team of passionate professionals, The Alex's three theatres allow visitors to enjoy fantastic live theatre performances and cinema in total comfort.
2 Chapel St
Run largely by its actors, Red Stitch is one of Australia's most successful independent theatre companies. Each year, the team work tirelessly to present unique, bold performances all year within an intimate theatre space.
14 Acland St
A champion of independent performance, Theatre Works takes pride in their artists and supports them in creating provoking and entertaining performances. A worthy visit for true lovers of theatre who are looking for a bold theatre experience.
St Kilda is one of Melbourne's most dynamic precincts when it comes to the arts. It's a wonderful place to enjoy a beautifully curated gallery or exciting performances all year round.